Apple laptops have a automatic backup system built in. If you connect a usb or firewire portable drive (external drive), the operating system will recognise it and ask if you want to use the drive as a TimeMachine backup drive.
This video overviews the process
. Tip: When you name your backup drive it is wise not to use spaces in the name i.e. "MyBackup" not "My Backup"
If your drive is not recognised try formatting the drive (see picture below). Feel free to talk to school technicians first, if things like this make you nervous- we love to help.
Only implement the following steps if you are feeling confident about what you are doing.
A few visual tips on being organised with bookmarks/favourites/favorites. Click on the picture to enlarge it.
All Internet browsers (Firefox, Chrome etc.) allow you to do something similar.... so if you are using a different browser then use these ideas to figure out how your browser works with bookmarks.
Always look for 3 sites to cross-check information, especially if you do not use one of the commercial encyclopaedias. Be fair in your use (quote and reference your sources) and look for released information that you can use.
For those with a mac you can put searching in the fast lane by working out how to use Alfred (a freeware software search engine installed on your harddrive or
downloadable here
)
Fri, Jan 21 2011 12:32
| 1:1, apple, computer, digital-literacy, how-to, mac, parent, skills, software, tips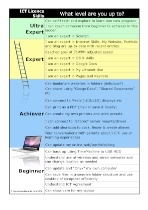 To provide a benchmark and a positive start to your 1:1 experience, these will guide you to the basic skills that are important for success with your new device. They only focus on important skills and habit not on the learning and learning competencies that will also be part of the 1:1 implementation. Click on the files below to download.
You will be presented with a certificate when you have achieved these Expert or Ultra-Expert levels. There are Skills ladders for most of the programs we use. They help us learn to use the programs better, to pass bronze, silver or gold for the I.C.T. Crew and to set learning goals. Look at the full set of
I.C.T. Rubrics here
or below .