The values and character downloads below are a range of resources that have been utilised in a current character/values programme run in a school in Christchurch, New Zealand.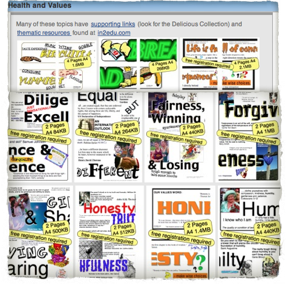 This has been used over a number of age-groups and provides general resources and ideas that can be adapted to suit your own class. It is vital however, that such a programme is introduced school-wide otherwise the consistency of language and of role modelling becomes piecemeal and not very effective. Our values programme often starts with our value of the fortnight (promoted, acted and launched in our whole school assembly), followed up with homework (interactive activity suggestions with parents especially important) or class activities. It is reinforced by the scripture sessions within the school and is promoted by staff and senior pupils through speeches, drama, multimedia presentations and other inputs. Many of these values words provide facets of common ideas, and can be similar in what they promote.
We are always looking to expand the range of resources that we have available and so if you have any ideas or contributions then feel free to contact us.
To access these posters visit our
banners, awards and posters site here
. Click on the health and values section.
This is a list of all the Health and Values posters and banners.
Candle Quote, Values Programme Posters/Banners: Diligence & Excellence, Equal Different, Fairness Winning, Forgiveness, Giving Sharing, Honesty Truthfulness, Honesty, Humility, Inclusiveness, Listening, Loss Grief, Patriotism, Perseverance, Respect, Responsibility, Service, Talents, Thankfulness, Vision

Values Programme Banner Overview: All Values Program Banners (Large File)

FIRE GRIP HELP Activities
Check out the banners here. Choose Values.