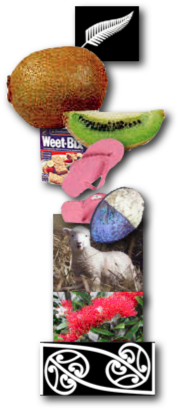 Kiwiana Daily Activities
In this section is a series of suggestions for small activities to lend a bit of motivation or spice to the day. Designed to provide a challenge or to have some fun.
Gumboot Toss
Have a gumboot throwing competition. Older pupils could have a "booticap". Award medals.
Photorama
Pupils bring "Kiwiana" to school and assemble them in a "creative sculpture". Take a digital picture of them. Image Manipulation: Take the photos above and put them into a graphics package and add other kiwiana, or manipulate them in other ways.
Multimedia
Slideshows or presentations using photo images of kiwiana.
Multimedia
Mindmap
Add to the
Kiwiana Mindmap as you learn more about kiwiana.
It's New!
Research a "new" item worthy of the name kiwiana. Tell us how it meets the criteria or why you think it deserves the label, "kiwiana".
Send an email to us for
possible inclusion on our website.
Design Stamps
Design your own stamps for kiwiana.