Breadcrumbs from the learning journey of one Warren Grieve.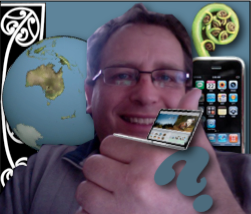 2011
Investigated photocopier systems for a school-wide roll out
Commissioned new proxy server environment
Investigated Finland educational system for two week holiday break
Created resource sections within our Ultranet LMS
Continued adding resources to
bannersandawards.com
The year of the Christchurch Earthquake 6.3 aftershock
March - redesigned this website from the ground up- created new educational resources for it in the process
January Started re-design of this educational website in2edu.com
Training in the Ultranet Intranet LMS. Two days small group training.
Installed Rukus Wireless system in school
Re configured three MacOSX Servers (LDAP, image deployment, administration)
Established
matrixmoments.com
to share Christian resources, poetry, sermons and photographs
2010
Help setup our 1:1 Computing programme and plan and deliver implementation for Jan 2011.
Setup a
support blog for our 1:1 computing programme
Conference in Learning@School 2010 Rotorua. Lead a workshop entitled "3 in 1" Exploring three different ways to use I.C.T. in the same inquiry topic covering use of Scratch (MIT) a program teaching programming, Keynote and Pages.
Finished my third private wedding video. It is a great privilege to capture precious moments for others.

2009
Established
bannersandawards.com
as a more visual way to share the posters, banners and awards I have designed.

2008
Established
Sciencepostcards.com
as a vehicle for science literacy resources from Chris Astall and Warren Bruce. Heavy design inputs for the resources from my thinking and also contributed a resource set. Now maintaining this site for the group.

2007
Addressed Royal Society in New Zealand Wellington based Conference (Science) as a contributing speaker.

PRIOR
7 years as an IT educational consultant for a variety of firms, latterly in this time as an independent contractor. Ran three smaller I.C.T. Ministry of Education contracts.