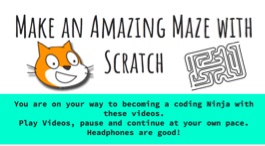 I have been working with Year 5 - 8 and online Scratch accounts. First of all be aware that there are teacher accounts - save the whole setting up accounts, usernames and forgotten passwords thing.

I started pupils in a class sense and then got them working on Flipped learning. A lot of talk around self-management, Digital Citizenship (especially digital footprints) to kick-off. Following the exploration of Scratch we will design te Reo games for our buddy classes and also enter in the Interface Scratch competition. Here is a link to my Flipped Learning Maze presentation (videos mostly OK). Dr Scratch is really cool to help do ongoing formative assessment (see presentation for link) - but peer assessment will be an ultimate judge for the games.
I was amazed about how quiet and focused the class became once we started flipped learning. Less problems, more thinking and differentiated learning - awesome!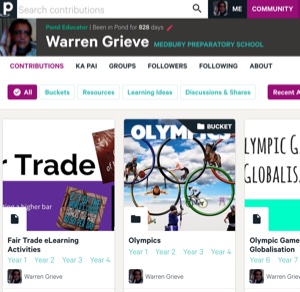 I have continued having fun placing resources in POND for our 1:1 programs and iPad programmes. I seem to spend more time creating these resources than posting about them online but here is access to many of them.

https://www.pond.co.nz/community/99135/warren-grieve/contributions/1/all
See it, know it!
These are words that summarise my focus for 2014. An expedition in visible learning. I will have a Year 5 class with 1:1 devices and we (teacher and pupils) are the second year of my 1:1 implementation journey. After twenty years specialising in ICT training I went back into the class in 2013. As 2013 progressed we implemented a range of online learning tools including: Google Docs, Spelling City, Study Ladder, ReadingEggs, ForallRubrics, Ultranet (our LMS- Learning Management System), we Skyped, setup blogs, participated in Quadblogging, used a range of computer based software, mixed in iPad use and more.
However, as time went on I realised that we needed to tie our learning together in a far more unified and visible way. So, as part of my reflection over the break I have been focusing on thinking through concepts of visible learning. From progressions that fit with with the NZ curriculum areas, especially in literacy (reading, writing etc.), Social Studies and the key competencies. Through these progressions and learning tools, I am looking to blend the pupils' 1:1 device learning in a way that differentiates learning, allows flipped class learning and gives a balance between offline and online learning activities.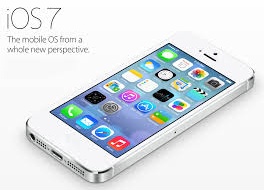 6:45 NZ time:
So a quick run down on my experiences so far. Downloaded iOS7 software six times on iPad before download success on iPad mini. Five attempts to install but software can't verify with the Apple Store.
Backed up iPhone - IMPORTANT. Connected iPhone to laptop to update to iOS7. Download failed once and then second time went through fine. Install starts, install fails halfway through and my phone now has to be put into recovery mode - I have a brick. Heart failure - but saying to self that I trust the recovery process! Recovery mode goes through fine and my phone restarts with iOS7. iPhone needs to be activated. Tried on phone 3-4 times, and then on iTunes 3-4 times before I finally slip through to iTunes store and get my phone activated. Now I can begin restore from backup.
7:39
Restore still going…. waiting for all the apps on my 64GB to sync. Will post update when done.
7:52:
Too many apps (232) still awaiting for the App sync to finish.
8:27
iPhone all restored and working fine. Getting used to the new icons. Next step back to the iPad Mini.
Thoughts:
Maybe best to do installs via iTunes at first while Apple servers are creaking under the mass of early updaters.
Don't have heart failure on bricking your iPhone…. wait to see if it (and then you) recovers.
Give yourself some time…. don't try to install just before you go to work!
When it comes to using Chrome (now my default browser on my Mac), extensions are what makes it my preference. In my one to one laptop class I have directed all boys to use it also. The main reasons are a couple of extensions and use with Google Apps.
Extensions that we/I use



Comment Save:
Saves copies of comments made on websites. Great to see what pupils are posting and to see the progress made in their commenting on other peoples work.
Watch Doc:
Watch all the docs you are subscribed to/have been shared or have created and see which have been updated recently.
Silver Bird:
Still works with being able to post to Twitter and to catch up on your latest news
Feedly:
Feedly is a news reader for creative minds. Seamless migration from Google Reader. Read RSS feeds.
Awesome new Tab Page:
Enhance your New Tab Page with ultimate customizability and power.
Google Drive Quick Search:
Search your google Drive from your search bar
Some I turn on and use every now and then
Bookmark Sentry:
Scan for duplicate and bad links in your favourites/favourites/bookmarks
OpenDyslexic:
A font that makes it easier for those with Dyslexia to read a page.
Great compared to other browsers:
Extensions
Compatibility with Google Apps
Ability to sync easily across desktop Chrome and mobile Chrome.
Not so Great:
Only a 32 bit browser
Slightly slower than Safari now
Badge systems
have been receiving a
lot of internet attention lately
. A number of people see these as the future of learning with micro units of competencies or skills being awarded to a set of criteria or competencies in a robust but easy way. Some even ask the question
will the badges replace degrees
and other formal learning down the line. These awarded symbols would then flow through to a
backpack
(journal) where pupils can display their learning. It is hard to find a system that is easy to use, setup and manage with a number of pupils.
I had created an ICT badge system for our 1:1 laptop use that needed to use badges but I trialled a number of sites and found them far too complex to use and manage. Finally, I found
forallbadges
(sister site
forallrubrics
) and I set my system up within their website. I now have over 100 badges online tied into my badges system. The ability for pupils to self award at a lower level and for it all to be tracked is fantastic. They have an iPad app to support quick awarding of badges and token systems that can also award badges.
I then moved on to use
forallrubrics
which is also amazing. The two sites are two sides of the coin making for great rubrics, rubric tracking and then you flip to award efforts. Simple easy to use rubric designs, tracking back into a combined workbook with self and peer assessment also catered for. You can then specify a badge that can be awarded via the rubric when a certain level is attained. The oral presentation rubric below was one we used for student led conferences that I held recently in my class. The following day the boys self-evaluated and then we discussed their award. We could alter and make notes about changes as needed… they loved getting the badge if they had made the required level which we all had previously agreed upon as a class. All the boys badges and rubric assessments get captured in their LEarning Journal which provides a great way for them to reflect on their learning also.
Other features of forallrubrics are: sharing (via creative commons), printing to PDF, result analysing at a simple level, ability to tag, ability to make multiple notes, ability to award weightings in rubrics, easy reordering and changing of rubrics, easy duplication of rubrics or sections within rubrics AND FREE!
Highly recommended!
Things to watch out for as time passes on:
Will you be able to export your badges from one system to another?
How robust is the system on passing badges to Mozilla backpack?
How easy can your data be exported? For individuals, groups and whole school?
How easy is it to share and collaborate your rubrics?
Can you tie in rubrics to Learning Standards easily?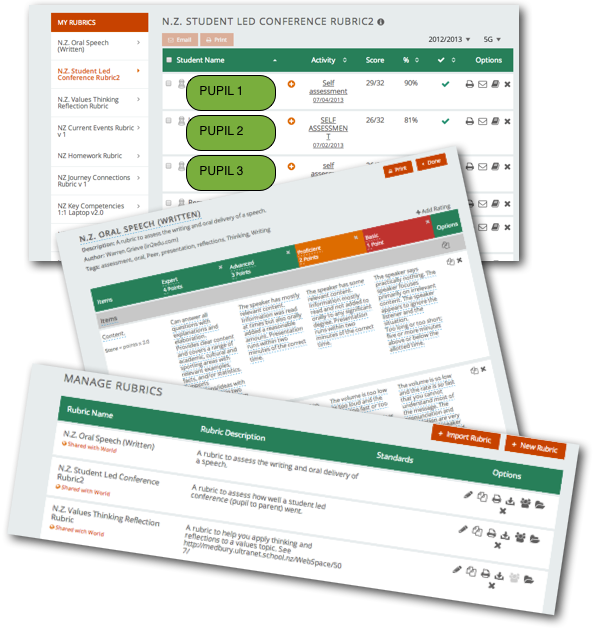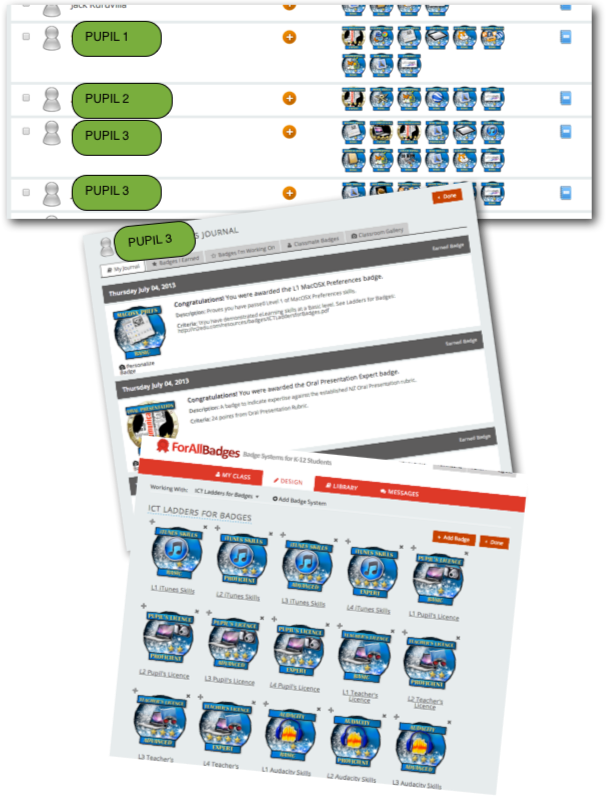 Tue, Apr 2 2013 12:30
Writing for meaning, writing to release "voice".
"Comment Save" Blogging Extension
My Year 5 boys have started the year well. Each boy has two blogs started,
one for published writing
(public to the world) and one for reflecting on learning (private to our class and parents), and we also have a
class blog
and a "positivity" blog up and running.
Some thoughts on how I have gone about this.
Each boy has setup different blogs each rather than one whole class one. This enables some creativity in design and template.
Our class blog tracks common activities reflects on new classroom initiatives or learning and celebrates what we have been doing. The quickest and most efficient way of doing this is to use the Blogger app on an iPad, take a picture, quickly comment and upload as quick as a wink. This is a favoured "job" in my class. Comments again should focus on the success criteria for the session where possible.
The boys have created a "Draft Copy" book in Google Docs which has been shared with me so I can edit and comment and track changes on each boy's writing. They then copy and paste to Blogger to publish their work, add their success criteria and a public domain picture (or their own picture) with credit.
The boys have a "Writing Muscle" Google doc where we are trying to write quick unpublished "Daily dashes" around our focus for improvement in writing. A quick timed five minute writing on a writing skill. See these cards for Editing and Proofreading Ideas for Writing Muscles.
We are part of quadblogging. Groups of four classes take turns visiting each other and commenting on the blogs/entries that pupils have written. We are looking forward to our second round of this. Motivation for this is high and the boys are learning good Digital Citizenship skills as we respond and comment on others work.
We are using Chrome on our computers so the extension "Comment Save" is great for for saving and tracking comments so both boys and teachers can record history of and improvements in comment making.
I decided to write and blog with the boys to show them my 'voice'. We have talked a lot about finding our story, our voice as we write.
As I reflect on our progress in two months, I am already wondering what will we do with these blogs when the new year in 2014 rolls around. Passing them on to next years teacher will provide a wealth of information for them. I am trying hard to link our spelling, reading and writing closely together, but in a private school with periods and exam demands it is tough.
101+ ideas for iPad
use has a tips for management and integration as well as practical suggestions for use of the iPad across the curriculum. It is a resource we are developing for the use of iPads in my school (Medbury Boys in Christchurch, New Zealand).

I installed iOS 6 on a 3GS iPhone and immediately on startup was struck by increased speed… unexpected. My use of iOS 6 has been enjoyable apart from the one problem faced by many, the replacement of Google Maps with Apple Maps. While I understand the reasons behind the move, less reliance on Google for mapping which is a core feature of a cellphone these days, but I really can't use Maps here in little old N.Z., Christchurch as it is just not accurate enough. I use the
NavFree GPS
(different versions for different countries) for turn by turn which does a great job at an amazing price - it uses Google search and open map data. However, sometimes the Maps app with quick search, birds eye and location is what I am after, so I hunted for replacement map Apps.
I looked for accuracy and clarity of maps included, ease of use of GPS pulse on a map, calculating rout

es and general ease of use of the App. I tested maps with place names within city and outside, including one with a recent change. Essentially data for most comes from Google Maps.
Searching for maps gives thousands of entries but here are some selected options:
Add a Google Maps link by visiting Google Maps which will take you to the mobile version. Bookmark it and add to your home screen etc.
Wait for the Google Map App to be released.. apparently not far away.
OR look for another App - tried searching under maps in the App store, installed a number and here are my picks.
Bing App if it can be installed… not available in NZ, apparently is good. I was not able to test this.
Fine Maps (version 3.1) Quick, easy to search.. quick reference to other information on your destination. (Pencil notes crashes the App each time). You can draw your own ruler on screen for distance. Uses Google Maps but can change to Bing. Route planning not that easy to use.
Maps+ (version 1.3.2) (my choice) The lite version has enough to keep you happy in the main. Ability to turn GPS locator on and off in the maps and customise where your own screen buttons are. Leaves more screen available for maps, no ads or ongoing annoying reminders. Reliable.
Apps I wrote off for obtrusive ads, lack of features or poor user interface (ui): My Places, MapsWithMe, Road Tripper, MapPocket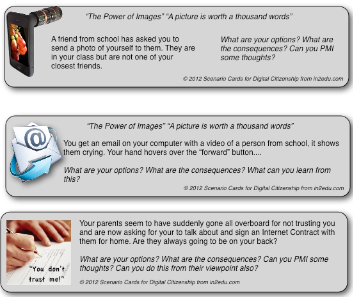 My latest resource for
offline reinforcement of Digital Citizenship learning
(4MB PDF). Over 20 cards covering scams, spam, Facebook and social networking, making decisions through real life scenarios. Feel free to comment below to add your own ideas for cards and I will pop them into this format and extend them.
My full Digital Citizenship resources, activities and learning ideas page can be found here.
JavaScript Menu, DHTML Menu Powered By Milonic