Tue, Apr 2 2013 12:30
Writing for meaning, writing to release "voice".
"Comment Save" Blogging Extension
My Year 5 boys have started the year well. Each boy has two blogs started,
one for published writing
(public to the world) and one for reflecting on learning (private to our class and parents), and we also have a
class blog
and a "positivity" blog up and running.
Some thoughts on how I have gone about this.
Each boy has setup different blogs each rather than one whole class one. This enables some creativity in design and template.
Our class blog tracks common activities reflects on new classroom initiatives or learning and celebrates what we have been doing. The quickest and most efficient way of doing this is to use the Blogger app on an iPad, take a picture, quickly comment and upload as quick as a wink. This is a favoured "job" in my class. Comments again should focus on the success criteria for the session where possible.
The boys have created a "Draft Copy" book in Google Docs which has been shared with me so I can edit and comment and track changes on each boy's writing. They then copy and paste to Blogger to publish their work, add their success criteria and a public domain picture (or their own picture) with credit.
The boys have a "Writing Muscle" Google doc where we are trying to write quick unpublished "Daily dashes" around our focus for improvement in writing. A quick timed five minute writing on a writing skill. See these cards for Editing and Proofreading Ideas for Writing Muscles.
We are part of quadblogging. Groups of four classes take turns visiting each other and commenting on the blogs/entries that pupils have written. We are looking forward to our second round of this. Motivation for this is high and the boys are learning good Digital Citizenship skills as we respond and comment on others work.
We are using Chrome on our computers so the extension "Comment Save" is great for for saving and tracking comments so both boys and teachers can record history of and improvements in comment making.
I decided to write and blog with the boys to show them my 'voice'. We have talked a lot about finding our story, our voice as we write.
As I reflect on our progress in two months, I am already wondering what will we do with these blogs when the new year in 2014 rolls around. Passing them on to next years teacher will provide a wealth of information for them. I am trying hard to link our spelling, reading and writing closely together, but in a private school with periods and exam demands it is tough.
101+ ideas for iPad
use has a tips for management and integration as well as practical suggestions for use of the iPad across the curriculum. It is a resource we are developing for the use of iPads in my school (Medbury Boys in Christchurch, New Zealand).
Welcome to your new laptop. Please remember to treat it with care and respect at all times and use it in a way that reflects our Medbury values. Take it home in the sleeve, within your bag... do not leave it unattended (out in open view) inside your house, at school or in cars.
There are three important to-do's and a number of tips below as you start to use your new MacBookPro.
IMPORTANT
Register the Applecare warranty for your laptop under your parents name here. You can check that it is registered properly using this tip.
Check that insurance for the laptop is all setup with your parents.
Discuss with your parents Internet and game use at home so that you are great Digital Citizen who is Cyber-Safe and also balanced in your lifestyle. (We will be holding a session for parents this term on the use of K9 so that they can have Internet filtering on your laptop at home).
Other To-Dos
Label the STIM cover with a stitched label or a tag on the Zip
Decide if you would like a skin for your laptop (they can be purchased here, and on other sites) BUT you must have any with significant design/pattern or your own design on them approved first (i.e. these need approval) by your teacher or the ICT Director. Note that some types have cutouts for the Apple logo to shine through and others don't.
Becoming an Advanced User
Other Thoughts
You cannot create any other accounts on this computer as your account does not have administration rights. If you wish to do so take your laptop to ICT Support, knowing the names of the accounts you wish to create. DO NOT let anyone else know your password other than your parents.
You can become an administrator of your own computer by passing the I.C.T. Pupils Drivers Licence (see it here), but this will take a bit of time. Passing this can hep you achieve your Bronze ICT Achievement badge AND in joining the ICT Crew.
Thu, Nov 24 2011 03:39
| 1:1, cellphones, computer, digital-literacy, onetoone, online, parent, responsibility, safety, searching, tips, values
What is the parent's role in this fast moving world of digital media? Are you a guardian, operator, refugee or avoider? I think it is all wrapped up into taking children from a childhood to adulthood, through the teenage angst, taking your child from a more secure environment as you deliberately seek to teach them how to be a digital-citizen.
As a parent the worst things you can do is avoid getting involved, "I don't understand this stuff." If your children are good users then they should be able to teach you what you do need to know, when you need to know it and you can add other knowledge and skills (i.e. what they are not telling you) from some of the sites listed below.
What is most important is for your children to realise that using digital devices is a privilege (especially if adults purchased them) and that as a parent you have the right to monitor their use. For the parent, it is important to realise that you are taking your pupils on a journey from a more innocent and protected place to a point when you say goodbye and you know they have learned behaviours, values and skills that they can independently apply to their digital device use and that will enable them to be great digital citizens.
First Steps
Talk about and setup a family home contract (set of negotiated rules) for use at home. Write out, discuss, spend time with your child on this and then all sign. Include items like reserving the right to check your child's Facebook page, laptop account, Internet history email and chat.
Here is a sample contract.
Install filter software if you feel it is required.
Next Steps
Check what is happening.
Your children will see/hear inappropriate material from time to time and it is important to have lines of communication open so that you can chat to them and discuss issues. Have learning conversations like, "Show me the most interesting recent site you have visited from your Internet history." I expect history to be always tere, part of our school contract, missing means something has been hidden! So a simple question likes this engages you with your child in their learning but gives you a chance to quietly check.
Keep doors open.
Do NOT punish the child who saw something inappropriate and told you, that is exactly what you want to encourage, so thank them and either block the site or change the method of searching.
Attend school Workshops or other meetings.
If your school has given you oportunities to learn in this area then grab them with both hands. They will have a lot of experience and information to offer you and remember that what you don't quite get you can always follow up later on with your own children as you will at least know where to start. I.E. "I know you can have more than one Internet browser on our computer. How many do we have? Do we really need four? Let's choose the best two together?"
Other References
NZ Article on K9
Our Delicious Cyber-Digital Citizenship for Parents Stack.
Click to Enlarge
The ICT Agreement in our school states that all Internet history will be left intact, they should never be empty unless the browser has not been used, in which case a decision could be made to delete it from Applications.
A recent survey in the States suggest that only 10% of parents have interacted with their children's Internet use. I would suggest that as parents we need to be involved in learning and values discussions with our children, in helping them learn safety on the web.
These are our tips for boys to show their parents their history or for parents to discuss the latest learning sites used with their son.
Firstly, keep in mind that there can be multiple browsers on a laptop. The most common are: Safari, Firefox and Chrome. We would ask that boys do not install any others as they are not required. Also keep in mind that all new cellphones have Internet browsers.
Secondly, Each of these browsers has on the menu at the top of the screen a "History" Menu. Simply click to view and look through.
That's it 1,2 and you have had another great moment with your child! Some parents have mentioned to me, "How do I respect my child's privacy, or stop them saying you don't trust me.' I would like to reply from my own experience as a parent and youth pastor the your children DO NOT have the right to hide this from parents that care and that if you establish this as a routine then it will be matter of fact. I checked up on my son and daughter's history until they were 16-18, I reserved this right while I was letting them use technology I had purchased for them.
With topics that have time sensitivity or require you to search via periods of time then the Google Advanced search via timeline may be just the thing you need. Results are presented as a clickable timeline, Search results can be over time or focused on a certain time.
Better still perform the same search heaps faster by using Alfred as a quick way to launch searches on a Mac.
Have you tried the advanced search where Google can now give you reading ages? Click on the advanced tab in Google search and go for it. Use the links by the reading ages at the top of the page to select the reading level. Some topics seem to respond better than others.
Better still, place this type of search in "Alfred" a mac search utility and supercharge (make easier) all the different websites (including Google Reading levels).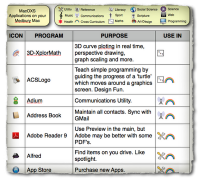 Here is a quick overview of the Applications
- Programs installed on the Apple MacOSX laptops in the school. They focus on learning and productivity. Of course, using Web2.0 documents are not covered in this entry, such as online mindmapping, GoogleApps, GoogleDocs, and delicious etc. So we will update you on our best web 2.0 picks very soon.
Have a look at the list and check out how you could use them. Also check out our
top educational freeware/open source
here.
Click for larger view
Visit this site
https://selfsolve.apple.com/agreementWarrantyDynamic.do
with the serial of your machine. It gives you instructions on finding the serial and how to type it in to check the AppleCare and other status points of your laptop. Register your laptop first and this system becomes active. All the AppleCare have been processed and checked at our end for you, but if you would like to check please do so and get back to us if there seems to be any problems.
This is our new online responsibility visual. Developed within the school we are promoting this as a quick overview of the responsibilities we all have in using social media and posting online information. It summarises some aspects of the ICT Code of Conduct which outlines further details.