Click to Enlarge
The ICT Agreement in our school states that all Internet history will be left intact, they should never be empty unless the browser has not been used, in which case a decision could be made to delete it from Applications.
A recent survey in the States suggest that only 10% of parents have interacted with their children's Internet use. I would suggest that as parents we need to be involved in learning and values discussions with our children, in helping them learn safety on the web.
These are our tips for boys to show their parents their history or for parents to discuss the latest learning sites used with their son.
Firstly, keep in mind that there can be multiple browsers on a laptop. The most common are: Safari, Firefox and Chrome. We would ask that boys do not install any others as they are not required. Also keep in mind that all new cellphones have Internet browsers.
Secondly, Each of these browsers has on the menu at the top of the screen a "History" Menu. Simply click to view and look through.
That's it 1,2 and you have had another great moment with your child! Some parents have mentioned to me, "How do I respect my child's privacy, or stop them saying you don't trust me.' I would like to reply from my own experience as a parent and youth pastor the your children DO NOT have the right to hide this from parents that care and that if you establish this as a routine then it will be matter of fact. I checked up on my son and daughter's history until they were 16-18, I reserved this right while I was letting them use technology I had purchased for them.
This is our new online responsibility visual. Developed within the school we are promoting this as a quick overview of the responsibilities we all have in using social media and posting online information. It summarises some aspects of the ICT Code of Conduct which outlines further details.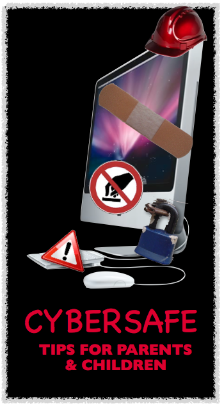 This is a
copy of our cybersafety pamphlet
(pdf version) for parents and pupils.
Fuller information