I installed iOS 6 on a 3GS iPhone and immediately on startup was struck by increased speed… unexpected. My use of iOS 6 has been enjoyable apart from the one problem faced by many, the replacement of Google Maps with Apple Maps. While I understand the reasons behind the move, less reliance on Google for mapping which is a core feature of a cellphone these days, but I really can't use Maps here in little old N.Z., Christchurch as it is just not accurate enough. I use the
NavFree GPS
(different versions for different countries) for turn by turn which does a great job at an amazing price - it uses Google search and open map data. However, sometimes the Maps app with quick search, birds eye and location is what I am after, so I hunted for replacement map Apps.
I looked for accuracy and clarity of maps included, ease of use of GPS pulse on a map, calculating rout

es and general ease of use of the App. I tested maps with place names within city and outside, including one with a recent change. Essentially data for most comes from Google Maps.
Searching for maps gives thousands of entries but here are some selected options:
Add a Google Maps link by visiting Google Maps which will take you to the mobile version. Bookmark it and add to your home screen etc.
Wait for the Google Map App to be released.. apparently not far away.
OR look for another App - tried searching under maps in the App store, installed a number and here are my picks.
Bing App if it can be installed… not available in NZ, apparently is good. I was not able to test this.
Fine Maps (version 3.1) Quick, easy to search.. quick reference to other information on your destination. (Pencil notes crashes the App each time). You can draw your own ruler on screen for distance. Uses Google Maps but can change to Bing. Route planning not that easy to use.
Maps+ (version 1.3.2) (my choice) The lite version has enough to keep you happy in the main. Ability to turn GPS locator on and off in the maps and customise where your own screen buttons are. Leaves more screen available for maps, no ads or ongoing annoying reminders. Reliable.
Apps I wrote off for obtrusive ads, lack of features or poor user interface (ui): My Places, MapsWithMe, Road Tripper, MapPocket
Apple laptops have a automatic backup system built in. If you connect a usb or firewire portable drive (external drive), the operating system will recognise it and ask if you want to use the drive as a TimeMachine backup drive.
This video overviews the process
. Tip: When you name your backup drive it is wise not to use spaces in the name i.e. "MyBackup" not "My Backup"
If your drive is not recognised try formatting the drive (see picture below). Feel free to talk to school technicians first, if things like this make you nervous- we love to help.
Only implement the following steps if you are feeling confident about what you are doing.
A few visual tips on being organised with bookmarks/favourites/favorites. Click on the picture to enlarge it.
All Internet browsers (Firefox, Chrome etc.) allow you to do something similar.... so if you are using a different browser then use these ideas to figure out how your browser works with bookmarks.
Fri, Jan 21 2011 12:32
| 1:1, apple, computer, digital-literacy, how-to, mac, parent, skills, software, tips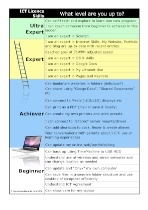 To provide a benchmark and a positive start to your 1:1 experience, these will guide you to the basic skills that are important for success with your new device. They only focus on important skills and habit not on the learning and learning competencies that will also be part of the 1:1 implementation. Click on the files below to download.
You will be presented with a certificate when you have achieved these Expert or Ultra-Expert levels. There are Skills ladders for most of the programs we use. They help us learn to use the programs better, to pass bronze, silver or gold for the I.C.T. Crew and to set learning goals. Look at the full set of
I.C.T. Rubrics here
or below .
Keep your computer running lickerty split and smooth.
'This requires administrator access to your computer. We will be using ONYX, freeware
available from here
, with the latest version also usually in our freeware network share at school, so you do not need to download it. Generally, you should optimise your computer every month or so, and especially before and after a large MacOSX system upgrade (always use the combo updaters for these System updates). Locate Onyx in Applications... Onyx and run it. As it starts up you get asked for an administrators password.... Open up the attachment below for a quick tipsheet (use the 'Help' in the program for more details. [
View
:
Download
]
Monocole is a small freeware utility that we have found that can significantly help in webs searching. Monocle
is found here
and we suggest you add other search engines to it as we have listed below to take your information exploring to the ultra expert level. Check out our "how to Use" tips sheet below.
teara.govt.nz
www.k8.ebonline.co.nz/elementary (free subscription for NZ schools to Britannica online) Setup if needed via TKI EPIC Databases
Oxford English Dictionary Online Setup if needed via TKI EPIC Databases
Do you have any search engines you think should be added to this list? Make a comment below.
For the Databases Via EPIC you will need to get the password allocated to Medbury for this year.
In this posting we point you towards manuals and how to videos for a range of software and other tools. Don't forget that the online help, and "googling" a problem are also a god way to learn on the spot. Generally, if you find yourself doing the same thing over and over, and you think there must be a quicker way, then there probably is. Find and learn, save time and become an expert.
Apple Software and Mac OS X.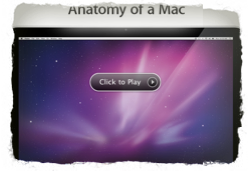 Other I.C.T. Gear
Taking Great Digital Camera photos tip [View ]
Shooting Video Tips (Storyboards, Shooting, Editing and more) [View PDF]
Third Party Software
Just recently posted from the authors of Chronosync (backups for Macs) is a range of programs that they have just updated for Snow Leopard. They (
econtechnologies.com
) have decided to release
Portraits and Prints
, Imagecaster (webcam solution) and Daychaser (calendar tool) applications as freeware, deciding to instead focus on their backup business. I will be reviewing Chronosync and the other freeware in upcoming blog entries, in the meantime here is a quick look at Portraits and Prints.
Overview
This program allows you to take images from folders or directly from iPhoto and manipulate them further by simple graphical adjustments, putting them into templates (catalogues) and printing them.
System Requirements
A Macintosh computer running Mac OS 10.3 ("Panther") or later, a minimum 400 MHz G3, and a color printer. It is a universal application.
First Look
If you have a general familiarity to Macs it is fairly easy to get started when you open the program. Within a few minutes you can have a page of identical or different photos entered into a template ready to print, pdf or publish to disc.
Similar Programs
Comic Life - amazing comic layouts, commercial software with significantly more options.
iPhoto- Supplied with iLife package on new Macs. More graphical manipulations, less catalogue templates.
Education Suggestions
Create simple photo captioned sequences.
Publish a visual report.
Create invitations or simple photocards.
Create a photoboard of a class activity or trip.
Create visual poetry.
Best Tips
You can add multiple photos using command+click in the finder dialogue.
Drag n drop a template to change photos in an existing template to a new or updated template.
Add plain text to photos by dragging in (the hard to see) blue dot handles on the speech bubble.
Hot
Simple and Free.
Red Eye - works quickly on a basic "turn my eyeball black" scheme.
Good range of basic templates.
Not So Hot
Can't paste other titles or images (layer) from other programs to enhance presentation, unless you do this on the template itself.
Can only crop in oblong/rectangular/square shapes, otherwise you use the built in bitmap masks or create your own extra masks available in template mode only.
Final Word
Taking in the balance this softwares status of "freeware" verses our Not So Hot comments we award this software three stars. Worth placing in your collection for specific photo printing purposes!
I have just spent half a day, a number of dollars and found the solution was already on my iPhone. The desire I had was to sync my iCal to-dos that are scattered over a number of different calendars with my iPhone. At this stage the iPhone calendar or mail will not sync your to-do's. A number of solutions proposed the use of google docs to sync to-dos, but the problem with these is that the tasks in in Google are just one list, not categorised like I need. I searched Googled, bought a new To-Do app (Toodledo - which has a nicer interface than my final choice).
After virtually giving up having a solution that really suited me I was trolling through the 13th page of a Google term search and then followed a link to the Appigo site... hmmmm I thought to myself ... this software looks familiar and realised I already had it (but had not got into using it as lack of synchronisation with my laptop iCal put me off).The winning combination came from ToDo 3.2 (
www.appigo.com
) combined with a free utility Appigo Sync
/www.appigo.com/appigo-sync
). To Do is a list manager and does a pretty good job of this as you can see from the screen shots. But the winner for me, was the two minute install of the sync utility (easy to follow videos or screenshots) and I was away. The sync utility basically runs a server program that pulls the data from iCal and pushes it to "ToDo". Done and dusted. You have to run the sync from within ToDo itself on the iPhone (it doesn't happen when you connect the iPhone) and need a wireless connection to do it over.
I looked at a number of systems, from paper to iCal and beyond. Looking for a cheap solution I came across
MRBS
a SQL solution and we have adapted it so that we can loan out materials, rooms, areas and I.C.T. equipment. We just use one log in via web-browser (pupils and staff book under this) and it is great for booking classrooms, ICT Suite, ICT gear and allocating halls and fields. It will take a bit of setting up but it is brilliant for the FREE cost!
Overview
iPhoto Buddy 1.2.6 is a Mac OS X application that allows you to easily create, manage, and switch between multiple iPhoto Libraries. The advantages of splitting your One Huge Photo Library into multiple, smaller ones include improved iPhoto performance, increased flexibility in organizing your digital photo collection, and a consistency with most other Mac applications that allow their respective data to be stored in as many documents (in this case, "Libraries") as you like.
Runs well under Rosetta. Tested on MacbookPro, Intel (1 GB Ram), 10.4.8, 2Ghz.
Similar Programs
iPhotoManager is the best competitor and has a freeware version and registered version (US $19.95) Universal.
iPhotoLibrarian is a simple script that changes location of library.
System Requirements
Required: iPhoto Buddy requires a Macintosh computer running OS X 10.2.4 or later, and iPhoto 2 or later. iPhoto Buddy is fully compatible with iLife '04, iLife '05, and iLife '06.(Universal Version not available)
First Look
iPhotoBuddy LargeiPhoto Buddy installs from a simple disc image drag and drop to applications. On running it picks up your default library and from there you can create new folders or add other libraries from elsewhere (a collection someone else has). You simply select the library you wish to launch by double clicking on it or selecting and clicking on the iphoto icon. It gives you details on the library collections and displays a view of the folders/albums in the selected library.
Education Application
For any user who is handling a lot of digital photos (art pictures, science experiments, school trips) and juggling with personal photos etc, this program provides and easy way to seperate out libraries to manage them more easily. It can help in the sharing of libraries, although permission issues will need to be worked through.
Best Tips
Use iPhoto Buddy to store your libraries on other media. i.e. Firewire HDD, network sharepoint.
Hot
* Free software that is simple and easy to use and does the job really well
* Simpler navigation and information from the display window than iPhotoManager
* Able to password lock a library
* Able to put a personal thumbnail on the libraries
Not Hot (Feature Suggestions)
* Ability to merge libraries would be great. (available in registered iPhotomanager)
* Ability to create a merged library from different albums
* Ability to create a shortcut of the library you wish to quickly launch (available in registered iPhotomanager)
* If you decide you need to swap a library while using programs (say Keynote) you will need to save, quit ad re-open the file.
Final Word
Free and does an excellent job.. so no arguments. If some of the features available in the registered version of iPhotomanager appeal then fork up some money, otherwise I think that iPhotoBuddy has a simpler ease of use. It is reliable and works well.
If you would like to make any comments on this feature or have suggestions or workarounds, feel free to leave a comment.
If you would like to make any comments on this feature or have suggestions or workarounds, feel free to leave a comment. A typical task: find a piece of graphics software that will suit a particular need for a boy with a physical disability. It needs to do X,Y, Z in a certain way and thinking about price would be good. This involves checking for the latest and greatest on the web, comparing them all and then after installing and having a look at them all, getting rid of the one's I don't want. Isn't it great to have a piece of software that will Zap all the extras installed?
Similar Programs
None located...
System Requirements
Required: Tiger
Version Reviewed:
1.8
Price:
US $12.95
First Look
It may be simple to install on a Mac, often just a drag and drop into the Applications folder. However, it is a little more difficult to get rid of all the bits and bobs that may be left behind when you want to take the software off the computer. Appzapper is designed to track all system files that an application creates and enable you to delete them simply. It does not delete files that a program has created and you have saved and saved in your 'Documents' folder.
Appzapper installs with a drag and drop from a downloaded disc image. You can have five free 'zaps' as you trial it. When you start the application the Appzapper window appears and you simply drag the application you wish to delete to this window. AppZapper processes the file and adds any other ones it can find related to it including preferences, library support files, caches, original disc images. I found use of this program simple and reliable.
In the example screenshot you can see a typical scenario; when iShow is first started it creates three other folders or files in Library...Application Support, Library...Preferences and Library... caches. By dragging an application into the AppZapper window you can see all of these and choose to delete all the pesky little hidden critters. I have used AppZapper extensively over the last two months and found it to be reliable and able to locate most files deposited in preferences etc
By default it will not delete standard installed Apple applications and you need to have administrator priviledges to remove some files. It has a log feature that tracks all the history of deletes.
Education Application
Keep images you have created for your network free of clutter and more efficient on space. Programs such as OnyX and Delocalizer should also help in this process.
Best Tips
Be prepared to do a hand check every now and then through your Preference folder, caches, and Application Support folders. on all the
Hot
Easy to remove the clutter of preference and other files located in your 'Library' and System Library
Not Hot (Feature Suggestions)
Support pages on website minimal
Not all files found in all cases, but will catch most of your clutter
Can't initiate the 'zap' through a drag and drop to the icon in the dock
Be prepared to wait if you scan a large Applications folder using the ZapGenie feature. I had 12 GB of Applications and it took a long time.
Final Word
Unique and helpful. I paid the dosh to get my registration.
My ICT education blog is in the middle of renewal right now.. back up soon.
JavaScript Menu, DHTML Menu Powered By Milonic