Thu, Nov 24 2011 03:39
| 1:1, cellphones, computer, digital-literacy, onetoone, online, parent, responsibility, safety, searching, tips, values
What is the parent's role in this fast moving world of digital media? Are you a guardian, operator, refugee or avoider? I think it is all wrapped up into taking children from a childhood to adulthood, through the teenage angst, taking your child from a more secure environment as you deliberately seek to teach them how to be a digital-citizen.
As a parent the worst things you can do is avoid getting involved, "I don't understand this stuff." If your children are good users then they should be able to teach you what you do need to know, when you need to know it and you can add other knowledge and skills (i.e. what they are not telling you) from some of the sites listed below.
What is most important is for your children to realise that using digital devices is a privilege (especially if adults purchased them) and that as a parent you have the right to monitor their use. For the parent, it is important to realise that you are taking your pupils on a journey from a more innocent and protected place to a point when you say goodbye and you know they have learned behaviours, values and skills that they can independently apply to their digital device use and that will enable them to be great digital citizens.
First Steps
Talk about and setup a family home contract (set of negotiated rules) for use at home. Write out, discuss, spend time with your child on this and then all sign. Include items like reserving the right to check your child's Facebook page, laptop account, Internet history email and chat.
Here is a sample contract.
Install filter software if you feel it is required.
Next Steps
Check what is happening.
Your children will see/hear inappropriate material from time to time and it is important to have lines of communication open so that you can chat to them and discuss issues. Have learning conversations like, "Show me the most interesting recent site you have visited from your Internet history." I expect history to be always tere, part of our school contract, missing means something has been hidden! So a simple question likes this engages you with your child in their learning but gives you a chance to quietly check.
Keep doors open.
Do NOT punish the child who saw something inappropriate and told you, that is exactly what you want to encourage, so thank them and either block the site or change the method of searching.
Attend school Workshops or other meetings.
If your school has given you oportunities to learn in this area then grab them with both hands. They will have a lot of experience and information to offer you and remember that what you don't quite get you can always follow up later on with your own children as you will at least know where to start. I.E. "I know you can have more than one Internet browser on our computer. How many do we have? Do we really need four? Let's choose the best two together?"
Other References
NZ Article on K9
Our Delicious Cyber-Digital Citizenship for Parents Stack.
Fri, Jan 21 2011 12:32
| 1:1, apple, computer, digital-literacy, how-to, mac, parent, skills, software, tips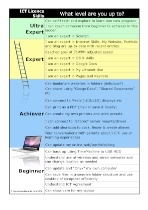 To provide a benchmark and a positive start to your 1:1 experience, these will guide you to the basic skills that are important for success with your new device. They only focus on important skills and habit not on the learning and learning competencies that will also be part of the 1:1 implementation. Click on the files below to download.
You will be presented with a certificate when you have achieved these Expert or Ultra-Expert levels. There are Skills ladders for most of the programs we use. They help us learn to use the programs better, to pass bronze, silver or gold for the I.C.T. Crew and to set learning goals. Look at the full set of
I.C.T. Rubrics here
or below .