In this posting we point you towards manuals and how to videos for a range of software and other tools. Don't forget that the online help, and "googling" a problem are also a god way to learn on the spot. Generally, if you find yourself doing the same thing over and over, and you think there must be a quicker way, then there probably is. Find and learn, save time and become an expert.
Apple Software and Mac OS X.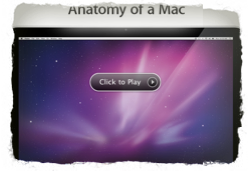 Other I.C.T. Gear
Taking Great Digital Camera photos tip [View ]
Shooting Video Tips (Storyboards, Shooting, Editing and more) [View PDF]
Third Party Software
I have just put together this method of browsing across this method of setting up your browser in activboard and to use links with the web in fullscreen or near fullscreen mode as you wish. It also provides and efficient way to use links within your school collaboratively.
1. Setup a delicious account (I researched a number and found this the best, especially with the Firefox delicious addon and the simple proxy addon to make using proxies easier in Firefox) (Be careful at this stage uploading large collections into delicious as I can't seem to download them as backup yet - have 5000 links)
2. Download and use Fluid http://fluidapp.com/ which allows you to create a specific browser just for your bookmarks that can point to your "starter" site. It also has awesome fullscreen and minimum browser toolbars. (Make sure you choose under preferences...> advanced..> Allow browsing to all URLs to keep within your created browser )
3. Place a shortcut to the "Browser to your site" in the dock and I reckon you could not go simpler for a collaborative effort of organising, rating and using bookmarks or favourites (favorties) in your school
4. Enjoy
What next- I am going to setup one pointing to a blank page on startup and use this as the default browser from within my flipcharts as it will provide better use of screen.
I have attached a copy of our Medbury browser that you can use as a sample (does not allow access to all our links but enough to give you an idea)
Interested in feedback....
JavaScript Menu, DHTML Menu Powered By Milonic