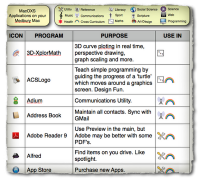 Here is a quick overview of the Applications
- Programs installed on the Apple MacOSX laptops in the school. They focus on learning and productivity. Of course, using Web2.0 documents are not covered in this entry, such as online mindmapping, GoogleApps, GoogleDocs, and delicious etc. So we will update you on our best web 2.0 picks very soon.
Have a look at the list and check out how you could use them. Also check out our
top educational freeware/open source
here.
Click for larger view
Visit this site
https://selfsolve.apple.com/agreementWarrantyDynamic.do
with the serial of your machine. It gives you instructions on finding the serial and how to type it in to check the AppleCare and other status points of your laptop. Register your laptop first and this system becomes active. All the AppleCare have been processed and checked at our end for you, but if you would like to check please do so and get back to us if there seems to be any problems.
Apple laptops have a automatic backup system built in. If you connect a usb or firewire portable drive (external drive), the operating system will recognise it and ask if you want to use the drive as a TimeMachine backup drive.
This video overviews the process
. Tip: When you name your backup drive it is wise not to use spaces in the name i.e. "MyBackup" not "My Backup"
If your drive is not recognised try formatting the drive (see picture below). Feel free to talk to school technicians first, if things like this make you nervous- we love to help.
Only implement the following steps if you are feeling confident about what you are doing.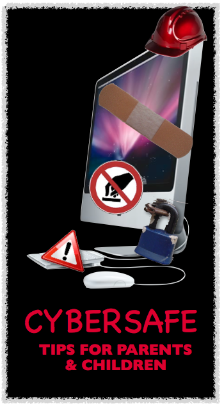 This is a
copy of our cybersafety pamphlet
(pdf version) for parents and pupils.
Fuller information
JavaScript Menu, DHTML Menu Powered By Milonic