When it comes to using Chrome (now my default browser on my Mac), extensions are what makes it my preference. In my one to one laptop class I have directed all boys to use it also. The main reasons are a couple of extensions and use with Google Apps.
Extensions that we/I use



Comment Save:
Saves copies of comments made on websites. Great to see what pupils are posting and to see the progress made in their commenting on other peoples work.
Watch Doc:
Watch all the docs you are subscribed to/have been shared or have created and see which have been updated recently.
Silver Bird:
Still works with being able to post to Twitter and to catch up on your latest news
Feedly:
Feedly is a news reader for creative minds. Seamless migration from Google Reader. Read RSS feeds.
Awesome new Tab Page:
Enhance your New Tab Page with ultimate customizability and power.
Google Drive Quick Search:
Search your google Drive from your search bar
Some I turn on and use every now and then
Bookmark Sentry:
Scan for duplicate and bad links in your favourites/favourites/bookmarks
OpenDyslexic:
A font that makes it easier for those with Dyslexia to read a page.
Great compared to other browsers:
Extensions
Compatibility with Google Apps
Ability to sync easily across desktop Chrome and mobile Chrome.
Not so Great:
Only a 32 bit browser
Slightly slower than Safari now
This video adds to the many other voices that are saying we need to do something for boys. As a part-time youth pastor, I deal a lot with teen and young adult guys and would echo many of the comments within this video.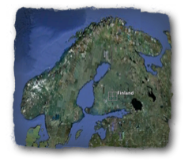 Twenty years ago, Finland was under the international educational average in testing and had large gaps between affluent and poor schools. Today, it tops the PISA (Program for International Student Assessment), a test of fifteen year olds covering literacy, maths and science. Finland is a small country of five million, with industry comprising of services 65%, manufacturing and refining 31.4% and rates reasonably well in innovation indexes also. It is a strong welfare state with high taxes, a high respect for education by Finnish parents and society in general with surveys demonstrating Finns trust public schools more than any other public institution, except the police.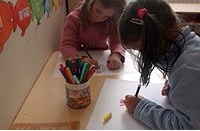 Recently, I spent a couple of weeks, on and off, looking at videos, reading blogs and investigating various websites that had information to convey about the successes of the Finland education system. The most prominent feature of Finnish students' performance in PISA, is its constant high level of results combined with small variance. Finland stands out with its weak performers, scoring in all domains, 66 to 91 score points above the mean for the lowest 5 % of students. Their top 5 % surpassed the OECD mean of its group only by just 31 to 47 score points. It was interesting teasing out the factors that I think have combined to produce their high international results. My perspective is from the context of New Zealand education, a country that has also scored highly on these same international tests.

Society Statistics
Family statistics 2010 66% married couples, 22% co-habitating couples, 12% one-parent families
Crime statistics Generally, on the low side in most categories
Child poverty statistics 4% child poverty in Finland. Very low compared to other countries.
Current % of government (public) debt to GDP is 48-50%
Median age 41 years (the oldest of most European countries)
Low infant mortality, high productivity and relatively high taxes
Happiness index 5th on table, Happy Life Years 9th on table (see World Database of Happiness)
Judged to be the world's least corrupt country (Transparency International)
Finland's Education History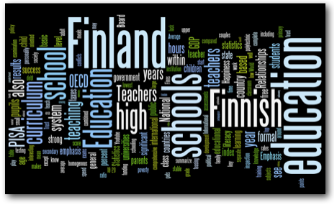 In the 1960's, a 9 year plan was adopted with the goal of "education for all". Significant teacher training was carried out, especially to accommodate whole age cohort teaching (a Finnish teacher in the primary area will teach the same children from 7- 16.) The system was government centralized with a detailed curriculum prescription. By 1985 municipal and school level freedom was allowed around a core curriculum. The Education Law of 1999, established a new evaluation policy with sample based NBE-implemented evaluations in key subjects, obligatory for the sampled schools but also available by fee for others for internal use. This lead to local flexibility and diversity with a strong emphasis on basic literacy and numeracy concurrent to provide wide-range education for all.
Finland, possibly has a narrower focus in the breadth of its curriculum than other countries. PISA examinations are similar in contract to the style of the curriculum that FInland focuses on which may also give its pupils an advantage in the PISA exams.
See also this very good overview of the history of education in Finland.


Notable Features
Philosophy as I summarize
No pupil should be left behind
Equity
Trust
Free education, including university and polytechnic

Education Statistics
Typical class size 18-20
Teachers work about 40% less class hours than US teachers do. Average 570 teaching hours a year for teachers in Finland (1,100 hours in the US)
27 % of students having received some form of special support for their learning during basic education.
School year 190 days
Average spending on education compared to other OECD countries.
Zero illiteracy
Homework is minimal with an emphasis on extra-curricula
Pupils spend the fewest hours in the classroom
Finland has more than 4,000 comprehensive schools, 750 upper-secondary schools, 20 universities, and a great many other educational institutions.
99 percent of students now successfully complete compulsory basic education, and about 90 percent complete upper secondary school
Two-thirds of these graduates enroll in universities or professionally oriented polytechnic schools.
More than 50 percent of the Finnish adult population participates in adult education
programs.
Comprehensive network of libraries
The Flavour of Education in Finland
Informal atmosphere in the schools.
No formal exams and ranking of schools. The outcomes of all Finnish nine-year comprehensive schools are followed by sample-based surveys. The results are published only on the system level. Formal examination grade 9 (leaving high school) the National Board of Education makes occasional assessments in other subjects and at other grade levels in representative samples of schools and pupils and, lately, longitudinal assessments in key subject. There is no separate school inspection and inspection visits to school are no longer held. Self-evaluation and external examination are emphasized. Emphasis on formative assessment.
In Finnish culture, significant political conflicts and sudden changes in educational policy have been rare
Teachers and schools are autonomous from state education system. Devolution of power.
Teachers are trusted to do their best as true professionals of education. They are entrusted with considerable pedagogical independence in the classroom, and schools have likewise enjoyed significant autonomy in organizing their work within the national curriculum.
Finnish teachers set high standards.
Flexible, school-based and teacher-planned curriculum along with student-centred instruction, counseling, and remedial teaching.
Schools coordinate with social service providers.
Teachers all require a masters degree with thousands turned down for training each year, 10-15% of those who apply are accepted. They see teaching as a life-long career. The teaching force is 100% unionized.
Starts with preschool (kindergarten), school starts at seven. The emphasis is on, "play". In 2006, 63 % of three-year-olds were in day-care, one of the lowest rates in Western Europe.
Finnish high schools have two clearly separate streams with both academically oriented general upper secondary schools and vocational institution. Most young children will stay with the same teachers for their entire education, up until 16 when they go to high school.
Free daily school meals
Right to attend closest school with school based curricula
Performance based funding for universities and polytechnics based on: Effectiveness (job placement and further studies); Processes (dropping out, % ratio of qualification certifications holders to entrants); Staff (formal teaching qualifications and staff development).
Emphasis on broad knowledge within a depth of curriculum rather than a wide curriculum. Equal value to all aspects of individual growth and learning: personality, morality, creativity, knowledge and skills.
The phonetic character of Finnish language makes decoding easy, leading to easier literacy success.
Finland emphasizes research and development (around 4% of GDP).
Each family gets three free books on birth of child…. for parents and child.
The Gotchas
Cost: the teasing out the figures of the Finnish education finances may enable others to see the split between education department costs and school costs (frontline). It will also be important to see how education budgets integrate with funding from other areas such as Social Services. Secondly, Finland is a homogenous society. It has not had significant migrant or multi-cultural change over last twenty years. However, recent immigrants have become part of Finland's current success and Finland certainly out-performs other homogenous societies.
Off the top of My Head
Relationships, however, are the deal-breaker in the success game. Relationships have driven a systematic reformation of the Finnish education philosophy. It started with leadership and co-operation between professionals to change a failing education system and the ongoing change has had a lack of political interference to derail it. Relationships also drive the start a pupil has in education, from the play in pre-schools to formal "primary" schooling (ages 7 to 16). Having the same teacher, who gets to know their pupils intimately (what happens with the personality conflicts I wonder?) over the eight years they teach them, means that relationships become core to the child-teacher-parent partnership. Relationships between parents, teachers and pupils show a general trust and professionalism.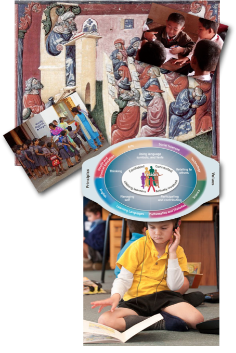 Possibly, due their tough environment and limited natural resources (except for large forest reserves), Finns have made a priority of investing in education. It seems they still have a strong family emphasis that must contribute to the stable and measured start that their children get to schooling. Finally, the lack of formal testing allows schools to develop programmes of learning that balance competition, equity and child-centred needs within the values they wish to emphasize, time is spent on learning and not on testing. For those in management who worry about this… just look at Finland's results and see that it works.
Resourcing and relationships summarize the keys of success in Finland. It would be interesting to explore further how, with an average OECD spend on education, Finland has free education, pays teachers well, provides free meals, gives teachers excellent non-contact time and has class sizes of 18-20. Although it is a state with high taxes, Finland does seem to have a stable government debt to GDP ratio of 50% at this point in time.
Sources - Check out more

A quick look at the state of play of Keynote indicates some varying opinions. In this post (
VGA Presenting
), Steven indicates some good success with Keynote. Alternatively, in this post (
iPad Misses the Mark
), Chris points out the frustrations of moving Keynote files between his desktop and iPad and some missing features he laments. In a 1:1 implementation Keynote will be very important to synthesise and present information. It is one of the key apps our pupils use at school for their learning. I wonder if the problems faced are version based? Here is a list of our most commonly used apps with a note as to whether there is a good alternative.
We are looking at one to one computing devices for our school programme for 2011. In this post h
ttp://www.in2edu.com/blog/index.php?id=255508204184561761
we have outlined some of the decision making to be carried out in a mindmap. Over the next few months we will be trialling the iPad as one of the possible devices our pupils could use. Of course in N.Z. the iPad has not yet been released. Up until the keynote of iPhone Os4 and the release of new features on it (especially multitasking) I was thinking that it would be a no show. We also have a few flash enabled websites such as Mathletics that we use as well so the jury is still out. The main factor it boils down to is providing the best tool that matches the learning to take place. Could an iPad in combination with a few pods of laptops for higher end use (video editing, music recording etc.) do the job? Other devices include netbooks and laptops.
Being an Apple based school we enjoy the great software and hardware we use, but still need to be open to alternatives.
So, follow this blog as we make our decisions and explore the options.
Wazza
Another Post From My iPhone
Location:Plunket St,Christchurch,New Zealand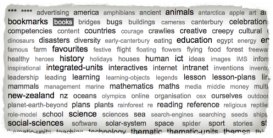 We have moved all our collection of bookmarks to a
collection based at delicious
. This online cloud of bookmarks has allowed our teachers in the school who all know the username and password, to collaborate together to help extend and develop the top educational bookmarks.
We will be closing our bookmarks sitebar educational favorites server within a month as this new collection will be far better, quicker and simpler to use. Any feedback welcome so test the new collection out.
"So, if you had 120 computers in your business, what tech support would you have?" I asked. The sun was streaming down as I talked to a business acquaintance, while watching our boys playing tennis. It was nothing to do with sunstroke, but more like a thunderbolt (slightly poetic licence!), when I realised just how little work is involved in running 120 odd
macs, that range in age from 1-6 years old, over two operating systems (OS 9 and OS X) and a mix of portables and desktops. His answer, "I would need 1-2 full time technicians". Off course, other questions immediately arise, like; "Is he purchasing the Windows systems from the same supplier on the same day (checking that they are using all the same specifications in terms of parts)", is he using ghosting/ drive imaging software to make installation and troubleshooting easier?" etc. However, I teach 70% of my time which leaves 30% to:
• help users (teachers and pupils in my school) who have invariably created some of their own problems or just need a helping hand to the next stage of their learning.
• cover technical issues
• administrate the network
and it was only just recently that we decided to bring in a part-time technician for 2-4 hours total, a couple of part-mornings a week.
When someone talks about Total Cost of Ownership (TCO) , I have realised over the last 5 years that this is very different in a Mac world compared to the windows world I had left to take up the ICT Facilitators position in the school. It still amazes me when after creating a disc image of the latest operating systems, I can then use one image apply it to all machines in the school, including some that are 6 years old and it just works. I use Carbon Copy Cloner and Netrestore (Apple) for these tasks and to restore a machine, or image a new machine, I hold down 'N' on powering a machine and away we go after choosing an image and popping in my password. Because of the smaller hard drives in some of the older machines I tend leave off the bigger applications like Garageband, but it is great to be able to get such a long life cycle out of this gear.
I also use Apples Remote Desktop 3 to carry out any post installation checking, machine specific installing, minor updates and spying on pupils (lol), still is fun to take control of their machine when they don't know. Remote Desktop is also great for sharing out a screen on a projector to share work in progress or new ideas, or if you don't have a projector to share screens with other pupils, which I had to do recently when the bulb in my projector blew.
So, with lower cost of maintenance TCO, but still able to carry out high level multimedia use (aka iMovie, Garageband) which is harder with a thin client system (lower again TCO), and a great range of software on board free with each machine, I reckon these Macs are great. Oh.. and less crashes, no virus problems (although we have had one incident of a Word macro virus, which can spread but not actually do anything else on a Mac), and no spyware problems on a operating system that just keeps working..
My ICT education blog is in the middle of renewal right now.. back up soon.
JavaScript Menu, DHTML Menu Powered By Milonic