I
have continued having fun placing resources in POND for our 1:1 programs and iPad programmes. I seem to spend more time creating these resources than posting about them online but here is access to many of them.
https://www.pond.co.nz/community/99135/warren-grieve/contributions/1/all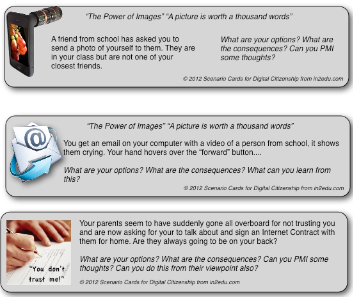 My latest resource for
offline reinforcement of Digital Citizenship learning
(4MB PDF). Over 20 cards covering scams, spam, Facebook and social networking, making decisions through real life scenarios. Feel free to comment below to add your own ideas for cards and I will pop them into this format and extend them.
My full Digital Citizenship resources, activities and learning ideas page can be found here.
JavaScript Menu, DHTML Menu Powered By Milonic